A 12-strong terror cell that carried out two attacks this week had 120 gas canisters and planned to use them in vehicle attacks, Spanish police say.
Canisters were found at a house said to be used by the cell that blew up in the town of Alcanar on Wednesday night.
They say they know who was driving the van that killed 13 people at Las Ramblas in Barcelona but will not name him. He is still at large.
On Sunday, a Mass was held in Barcelona to mourn the victims.
In addition to the 13 killed on Thursday afternoon at Las Ramblas, a woman died in a second vehicle attack early on Friday in the town of Cambrils.
Five suspected jihadists were shot dead by police in the second attack.
Catalan police chief Josep Lluis Trapero has given an update of the operation.
He said the cell was still believed to be 12 strong and had been planning attacks for more than six months. One person remained at large and there were two sets of human remains to be identified, he said. Four other people are under arrest.
The person at large was the driver of the van, Mr Trapero said, adding that police knew his identity but would not reveal it.
But police have confirmed they are hunting Moroccan-born Younes Abouyaaqoub, 22, who Spanish media say was the driver.
The two sets of remains to be identified may refer to victims of the house explosion at Alcanar.
Spanish media have speculated the two may be Youssef Aallaa, the brother of one of the suspected jihadists killed at Cambrils, and Abdelbaki Es Satty, an imam from the town of Ripoll, north of Barcelona, where a number of the suspects are from.
The imam apparently left the mosque abruptly in June and has not been seen since. The mosque president said he had told him he wanted to go back to Morocco.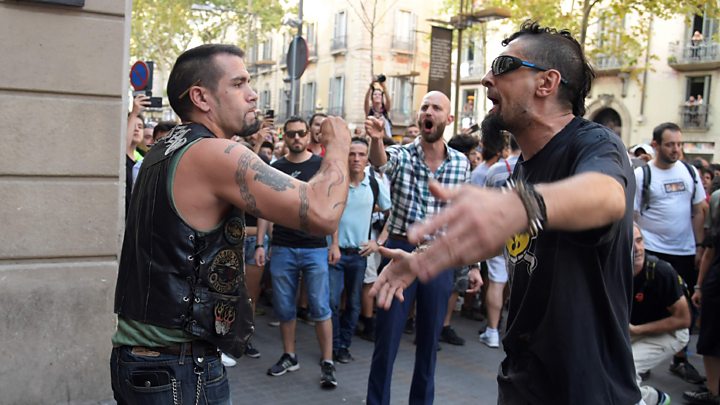 "We're starting to see clearly that [the Alcanar house] was the place where they were preparing explosives for one or more attacks in the city of Barcelona," Mr Trapero said.
He added: "We are not in a position to say what caused the radicalisation of these people."
Mr Trapero said police could not rule out that the suspect still at large had crossed the French border, although he had "no specific information on this".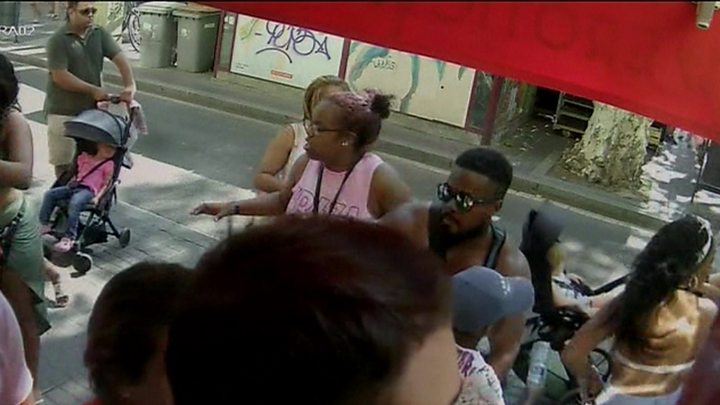 It is now known that three vehicles were rented under the credit card of Younes Abouyaaqoub.
One was used in the Las Ramblas attack, another was found after the attack in the town of Vic and a third in Ripoll.
Mr Trapero said the cell had planned to fill all three with explosive material to carry out attacks.
On Sunday, King Felipe and Queen Letizia attended Barcelona's Sagrada Familia to mourn those killed in the attacks
Some reports in Spanish media say the jihadist cell had intended to target the iconic, Gaudi-designed church with explosives.
Cardinal Juan José Omella, the Archbishop of Barcelona, called for peace and unity, saying: "We will overcome fear."
He read a message from Pope Francis, which said the pontiff "condemns once again the violence, which is a very grave offence against the creator, and he prays to God for help so we can continue working for peace and harmony in the world".
Cardinal Omella also said at the Mass, in fiercely independent Catalonia: "The union makes us strong, the division corrodes us and destroys us."
Later on Sunday, Barcelona FC will hold their first league game of the season, with 100,000 expected at the Camp Nou, where there will be a minute's silence.
---
Who are the suspects?
So-called Islamic State (IS) said it had carried out the Las Ramblas attack, though it is not clear whether any of the attackers were directly connected to the group or simply inspired by it.
Killed: Five suspected jihadists shot dead by police in Cambrils – Moussa Oukabir, 17; Said Aallaa, 18; Mohamed Hychami, 24; Omar Hychami; Houssaine Abouyaaqoub.
Arrested: Three in the town of Ripoll – Driss Oukabir, 28, the brother of Moussa, who turned himself in saying his documents had been stolen to rent vehicles; Sahal el-Karib, 34; Mohammed Aallaa, 27. Mohamed Houli Chemlal was arrested in Alcanar following the house explosion there on Wednesday.
Hunted: Younes Abouyaaqoub, now suspected to be the driver in the Las Ramblas attack. Youssef Aallaa, the brother of Said. Abdelbaki Es Satty, an imam of Ripoll. However, the latter pair may have died in the house explosion in Alcanar.
---
Thursday's attack in the Catalan capital saw a van driven at high speed along Las Ramblas where it hit dozens of people walking along the pedestrianised avenue popular with tourists and residents.
Hours later, early on Friday, there was a second van attack in Cambrils, west of Barcelona. A woman was killed and police shot dead five suspected jihadists.
What do we know about the victims?
These names of the dead have so far been released:
American Jared Tucker, 43
Belgian Elke Vanbockrijck, 44
Spanish-Argentine Silvina Alejandra Pereyra, 40
Argentine Carmen Lopardo, 80
Spaniard Pepita Codina, 75
Canadian Ian Moore Wilson
Spaniard Francisco López Rodríguez, 57. A three-year-old relative with him also died
Italian Bruno Gulotta, 35
Italian Luca Russo, 25
Spaniard Ana María Suárez died in the Cambrils attack
Two unnamed Portuguese nationals are also confirmed dead.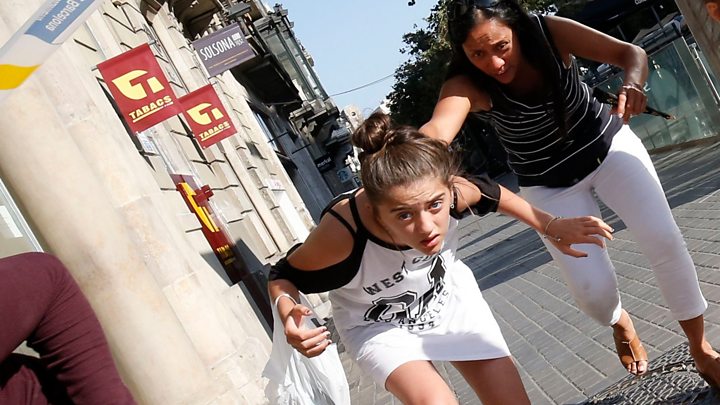 The whereabouts of seven-year-old Julian Cadman, a dual British-Australian national apparently separated from his injured mother during the attack, remains unclear. He was widely reported to be missing.
However, the Catalan police, responding to inquiries, tweeted that they had neither been looking for nor found any missing child. The victims and the injured had all been located, they said.
The latest breakdown from Catalan emergency services on the injured reads:
Barcelona attack: 13 critical, 20 serious, 14 less serious, 2 minor
Cambrils attack: 2 serious, 2 less serious
---
Timeline of events
Alcanar, Wednesday evening: An explosion rips through a house in the small town 200km south of Barcelona. One person is confirmed dead, though up to three may have died. Police chief Josep Lluis Trapero said it appeared the residents at the house had been "preparing an explosive device". A Catalan government official says a cell may have intended to use gas canisters in the Las Ramblas attack.
Barcelona, Thursday 16:50 (14:50 GMT): A white Fiat van drives down Las Ramblas in central Barcelona, killing 13 people and injuring scores. The driver flees on foot.
Vic, Thursday 18:30: Police find a second van, thought to be a getaway vehicle, in the town, 80km north of Barcelona.
Sant Just Desvern, Thursday 19:30: A car is driven towards officers at a checkpoint on the outskirts of Barcelona. They open fire. A man is later found dead in the passenger seat of the car with stab wounds. The dead man is not linked to the Las Ramblas attack, officials say, but investigations are ongoing. One theory is that the car was stolen and the man was killed by the carjacker, who is still at large.
Cambrils, Friday 01:00: A second vehicle attack takes place in the resort south of Barcelona, killing a woman. Police kill five terrorist suspects said to be linked to the Las Ramblas attack. They include Moussa Oukabir, 17, initially thought to be the Las Ramblas attacker. Police later say another man, Younes Abouyaaqoub, is being hunted.