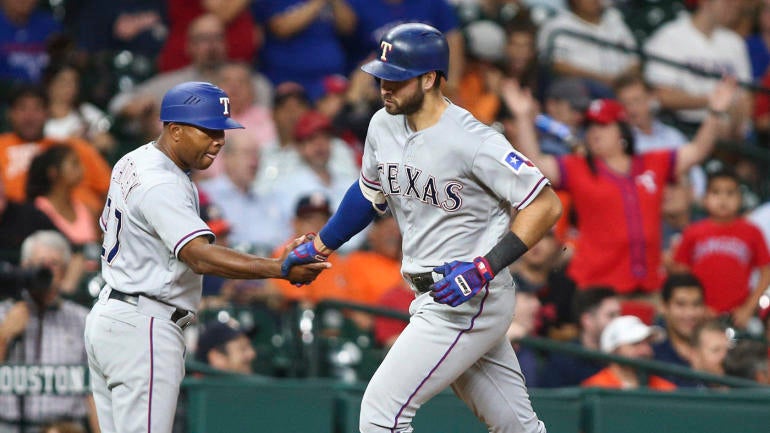 Power and strikeouts are surging these days, so we're starting to see more fun little statistical oddities. Let's focus on players who are hitting more home runs than singles right now. 
Before last season, the only hitters in MLB history with at least 150 at-bats and more home runs than singles were Mark McGwire (who did so five times) and Barry Bonds (in his 73-homer season). That was it. Here's the full list on Baseball-Reference.com's play index. Go look for names like Carlos Zambrano, Shane Spencer and Rob Deer (sadly, it was just four homers and two singles). 
In a full season, it's incredibly rare. We never saw a player with more long balls than singles until McGwire did it in 1995 with 39 homers and 35 singles. 
Last season gave us Ryan Schimpf of the Padres. In 276 at-bats, he clubbed 20 homers, but only 18 singles. He also struck out 105 times. Also, it's still not a full season. 
Might we see Schimpf join McGwire and Bonds this year? He's doing it so far. He has company, too. 
Bellinger is not a great bet here, being so close and with singles obviously being a lot easier and more prevalent than homers. Happ might not end up having enough at-bats to qualify. Schimpf has been sent to the minors, so he's probably going to fall short of qualifying as well, depending on how long he's down. 
It also must be said that it's only the middle of June and we aren't even halfway through the season yet. One of the great things about baseball is that the long season tends to even things out. We've only seen two of baseball's greatest all-time sluggers achieve this thing for a reason.
Still, Gallo appears to be a very good candidate to join Bonds and McGwire. Like Schimpf, he's fly-ball heavy with an all-or-nothing approach at home plate. 
In all, this doesn't really mean that much, other than that it's just a fun oddity. Consider it your nugget of the day.