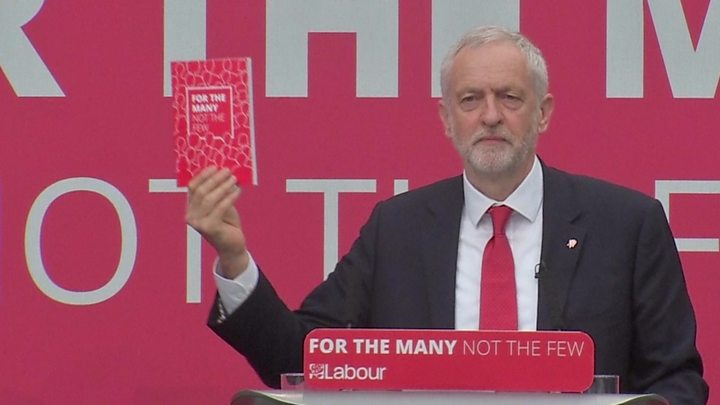 Labour has unveiled pledges costing £48.6bn – to be funded from extra tax revenue – in its election manifesto.
Leader Jeremy Corbyn said the manifesto – including billions for schools and the NHS and an expansion of free childcare – was a "programme of hope".
Income tax would increase to 45p for people earning over £80,000, and 50p for those on more than £123,000.
It also includes the nationalisation of England's 10 water companies and scrapping university tuition fees.
Labour said all the pledges were costed, with other fundraising measures including corporation tax rises, a crackdown on tax avoidance and an "excessive pay levy" on salaries above £330,000.
The Tories said the sums "don't add up".
"Whatever your age or situation, people are under pressure, struggling to make ends meet," Mr Corbyn said as he launched the proposals in Bradford.
"Our manifesto is for you."
Labour is the first of the major parties to publish its manifesto ahead of the general election on 8 June.
Mr Corbyn joked about last week's leak of a draft of the proposals and then said Labour would not increase VAT or National Insurance, with income tax rises reserved for the "richest 5% of high earners".
The manifesto also includes:
Taking Britain's railways back into public ownership
Moving towards a publicly owned energy system
The "reasonable management" of immigration and no "bogus targets"
Building 100,000 affordable homes a year
Supporting the renewal of the Trident nuclear weapons system
Offering an immediate guarantee about the status of EU nationals in the UK
Refusing to leave the EU with no deal in place
A review into reforming council tax and business rates, in favour of options such as a land value tax.
Mr Corbyn said he was confident that once voters could "study the issues" they would conclude: "That the few have prevailed over the many for too long.
"And that they will decide it is now time for Labour."
Paul Johnson, of the Institute for Fiscal Studies, said it was "genuinely uncertain" whether increases to income tax would raise the £6.4bn Labour has earmarked, adding that they represented a "big increase" for high earners.
---
Analysis: They're not 'all the same'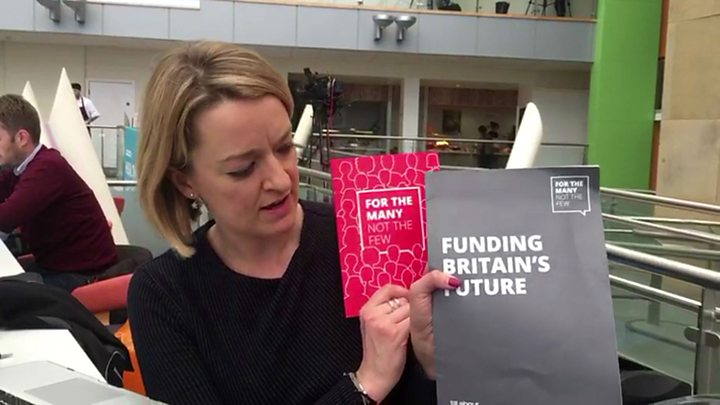 BBC political editor Laura Kuenssberg
I've said it before and I'll say it again.
This is not an election where voters can say, with justification, "they are all the same".
The just-launched Labour manifesto shows, in black and white, why that is simply not the case.
The party is including £48.6bn of extra tax rises, and the same in extra spending commitments.
In the coming hours, the details will be pored over at length; they matter enormously.
But the big picture is clear.
Jeremy Corbyn is taking the Labour Party in this election to a very different place – away from the recent consensus that the UK should be moving to lower borrowing, and lower taxation.
The manifesto spells out a vision, for good or for ill, of more spending, more tax, and more borrowing.
And in a big way.
---
Labour said it would return the railways to public ownership as franchises expire, or in some cases using franchise reviews or break clauses.
The manifesto did not set out how its plans to nationalise the national grid and the water industry would be funded.
Shadow cabinet member Sarah Champion told the BBC the water proposal was "an intent" and that Labour would "need to look at the legislation".
The shadow secretary of state for women and equalities said: "To be quite honest, we've had three weeks, so this is an intent. So what we need to do is look at the legislation and see exactly what it is that we would pay to shareholders."
Labour has already made a series of tax pledges, including increasing corporation tax from 19% to 26% and a "Robin Hood" tax on financial transactions, to fund multi-billion pound spending commitments on health, education and policing.
The manifesto also includes a pay levy designed to discourage companies from paying "excessive" salaries.
Companies paying staff more than £330,000 will pay a 2.5% surcharge while salaries above £500,000 will be charged at 5%. Labour has said the move, designed to reduce pay inequality by bearing down on "very high pay", will only apply to firms with "high numbers of staff".
Treasury Chief Secretary David Gauke dismissed the Labour manifesto as "nonsensical", claiming much of it was comprised of "non-funded spending proposals."
He said the tax rises Labour had promised were "very, very unlikely to be delivered" and would "damage investment and drive away wealth creators and make the UK a much less attractive place to put jobs and investment."
"It will make the UK a weaker economy," he said.
SNP deputy leader Angus Robertson claimed the manifesto was full of "headline-chasing policy announcements" – adding that many of the pledges were already being delivered in Scotland by the SNP administration.
Liberal Democrat former cabinet minister Alistair Carmichael condemned Labour's approach to Brexit, accusing it of "failing to stand up for our membership of the single market and refusing to give you the final say over the Brexit deal."
---
Do you have any questions about Labour's manifesto? Send us your questions and a BBC journalist will investigate the most popular.
Use this form to ask your question:
If you are reading this page on the BBC News app, you will need to visit the mobile version of the BBC website to submit your question on this topic.