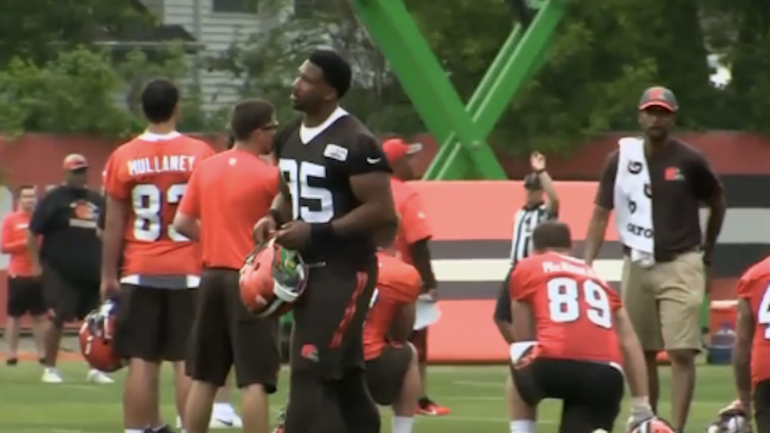 Browns fans, you can stop holding your breath about Myles Garrett's injury, because it looks like he's going to be alright. 
The Browns announced on Saturday that Garrett suffered a lateral foot sprain when he went down this week. The injury isn't serious, and Garrett is expected to be ready when the Browns kick off training camp in late July. 
The announcement came three days after Garrett suffered a left foot injury during practice that left most Browns fans wondering if bad luck was going to follow their franchise around for the rest of time. 
Garrett, the No. 1 overall pick in the NFL Draft, injured his foot during a non-contact drill on Wednesday. After Garrett went down, he had to be helped up by coach Hue Jackson and a team trainer.  
Due to the non-contact nature of the injury and due to the fact that Garrett has a history of foot injuries, there was some concern that the latest injury might keep Garrett out for an extended period of time. 
The foot injury this week came on the same leg that gave Garrett issues during his final season at Texas A&M. The defensive lineman suffered a badly sprained ankle back in September that left him at just "75 percent" for his final college season. 
The top pick was also limited during most of the team's OTAs in May, and even missed a practice due to a foot injury he suffered during rookie camp, according to Cleveland.com. 
With his latest injury, the Browns went a full 72 hours before offering an update. That timeframe gave Browns fans plenty of time to go into panic mode over the possibility of losing their top pick. 
Garrett was spotted wearing a walking boot at the Cleveland airport on Friday, which raised even more questions about his health. 
Thanks to the update from the Browns though, we can now put all of the questions about Garrett's health to rest. The defensive lineman will have the next six weeks off, and when the Browns report for training camp, he should be ready to go.