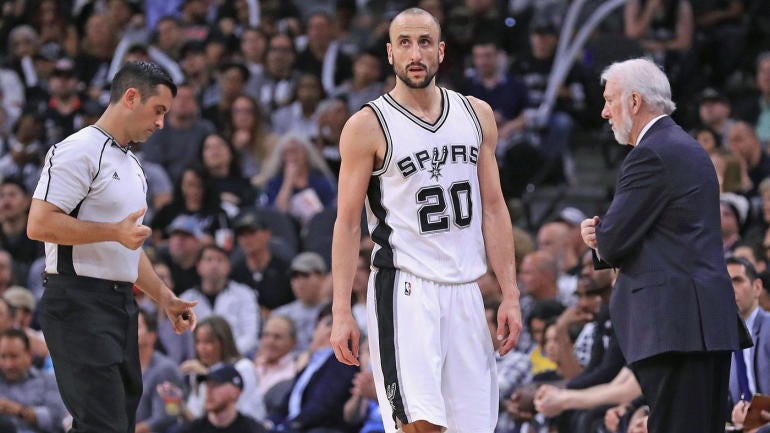 Manu Ginobili gave everybody a trip down memory lane last season when his performance in the playoffs helped the Spurs win a playoff game. It was reminiscent to the old days of Ginobili when he would come off the bench and wow fans with his ability to get inside the lane and cause chaos. 
There were questions about whether that was Ginobili's final game with the Spurs, but it appears that he will be sticking aroung in San Antonio for at least one more season. The Spurs announced Thursday that Ginobili signed a two-year deal with the team. According to Shams Charania of The Vertical, the deal is worth $ 5 million.
The native of Argentina was drafted by the Spurs with the 57th overall pick in the second round of the 1999 NBA Draft. Coming to San Antonio in 2002, he is the Spurs all-time NBA leader in three-pointers made (1,431), while ranking second in steals (1,349), third in games (992), fourth in free throws made (3,270), as well as fifth in total points (13,467) and assists (3,838). He has twice been named to the All-NBA Third Team (2008, 2011). The 2008 NBA Sixth Man of the Year and two-time All-Star (2008, 2011), He and Parker currently have 652 wins together, fourth-most of any teammates in NBA history. Trailing only Magic Johnson and Larry Bird, Ginobili owns the third-best winning percentage in NBA history of any player that has played at least 500 games (.729, 723-269).  
Spurs and basketball fans everywhere should be thrilled that they'll get to see at least one more year of Ginobili in the NBAl. However, this could very likely be his final season. At 40 years old there isn't much NBA time left on those legs. Last season, he averaged a career-low in points and minutes per game. His contract may last two years, but it's very likely he will retire or be waived after the first.
Ginobili likely won't have the same retirement party Kobe Bryant and Michael Jordan got in their final seasons, but NBA fans everywhere should take a moment this season to appreciate Ginobili for what he's done in his career. Few players have been as exciting and creative as he was in his prime. That's something that should be acknowledged by every basketball fan.