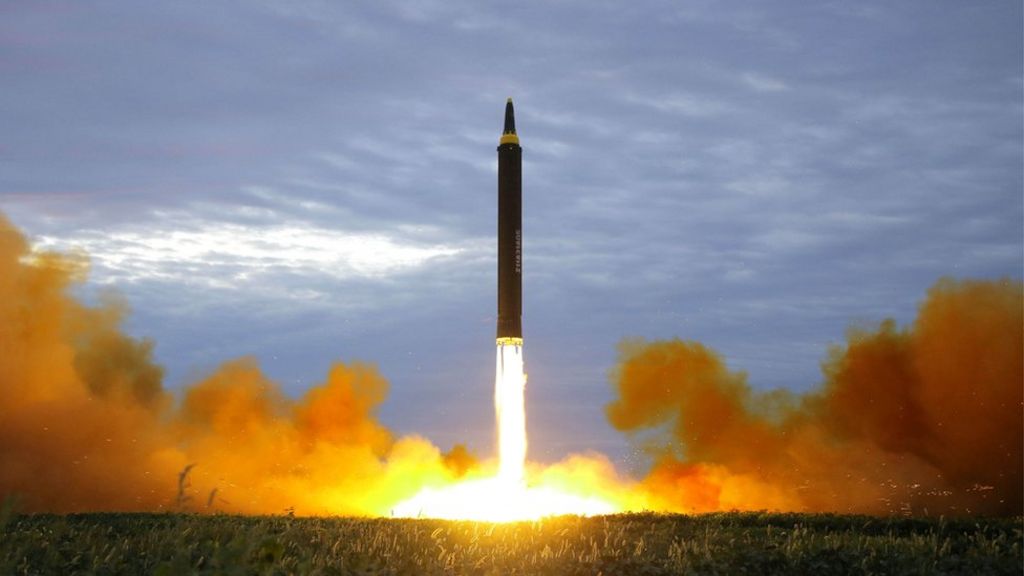 North Korea has fired a missile over northern Japan, the South Korean and Japanese governments say.
The missile is likely to have reached an altitude of about 770km (478 miles) and travelled some 3,700km, South Korea's military said.
The missile flew over Japan's Hokkaido island before landing in the Pacific Ocean, officials say.
Last month, North Korea fired a missile over Japan in what Tokyo called an "unprecedented threat" to the country.
The South Korean military said that the latest missile launch took place in Pyongyang just before 07:00 local time on Friday (22:00 GMT on Thursday).
This rocket flew considerably higher and further than the missile fired on 29 August, which travelled 2,700km (1,678 miles) and reached a maximum altitude of about 550km.
Observers have noted that the latest missile flew far enough to reach the US Pacific territory of Guam, which is 3,400km from Pyongyang.
Japan's Chief Cabinet Secretary Yoshihide Suga said the rocket flew over Hokkaido but that no evidence of missile fragments had been discovered in the area.
He said that people were warned to take cover as sirens sounded, adding that the incident was an "intolerable" act of provocation.
It comes just days after new sanctions were imposed on North Korea by the United Nations because of its weapons testing.
In response to the missile alert on Friday, South Korea's military conducted a ballistic missile drill in the Japan Sea, known as the East Sea, Yonhap news agency reports.
South Korea and the US are analysing the details of the launch, it added.
South Korea's presidential palace, the Blue House, has called an urgent National Security Council meeting.
Late last month, North Korea fired a domestically made Hwasong-12 missile over Japan in what Pyongyang said was "the first step" of military operations in the Pacific.
The Hwasong-12 also crossed Hokkaido, triggering public alerts to take cover, before landing in the North Pacific Ocean 1,180km off the Japanese coast.
Earlier this month Pyongyang said it had tested a hydrogen bomb – a device many times more powerful than an atomic bomb – that could be loaded on to a long-range missile.
The UN Security Council has repeatedly condemned North Korea for its actions.
---
North Korea's missile programme:
North Korea has been working on its missile programme for decades, with weapons based on the Soviet-developed Scud
It has conducted short- and medium-range tests on many occasions, sometimes to mark domestic events or at times of regional tension
In recent months the pace of testing has increased; experts say North Korea appears to be making significant advances towards its goal of building a reliable long-range nuclear-capable weapon
In July, North Korea launched two missiles which it said were Inter-Continental Ballistic Missiles (ICBMs) capable of hitting the US; experts believe they put parts of the US in range
There is no consensus on how close North Korea is to miniaturising a nuclear warhead to put on a missile
Have North Korea's missile tests paid off?