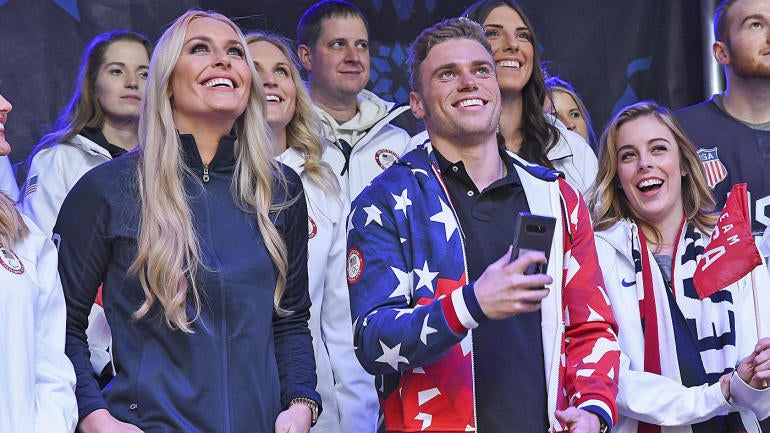 Ready for one of the biggest parties on the planet? Feeling the Olympic spirit? The Pyeongchang Winter Games will officially open on Friday in South Korea with the Opening Ceremony. And, for American athletes, it's a good thing those team jackets from Ralph Lauren have warmers because it's going to be freezing. Lucky for you that you can watch from the comfort of your couch at home.
Athletes from all over the world will be in attendance, and Mike Tirico will be joined in the booth by Katie Couric, who is returning to NBC for its Olympic coverage. NBC will be airing the ceremony twice — live as it happens early Friday morning — and during its primetime window of Olympic coverage later that night. Lindsey Vonn, Shaun White, Mikaela Shiffrin and Chloe Kim will all be representing the United States, and Erin Hamlin will be carrying the flag for the U.S. — although Shani Davis isn't happy about it. Another thing to keep an eye on: North and South Korea will be marching under one flag for these games — a decision that's been met with some resistance.
Follow the festivities live — and on NBC's prime-time replay with our live blog.
How to watch the Winter Olympics 2018 Opening Ceremony
Date: Friday, Feb. 9
Time: 6 a.m. ET (live) AND 8 p.m. ET (taped)
Location: Pyeongchang Olympic Stadium — Pyeongchang, South Korea
Channel: NBC
Stream:fuboTV (try for free)
This year will be a bit different in that there's no roof on Pyeongchang Olympic Stadium. It's one of four uses that the stadium will see before being repurposed after the Games. The ceremony will likely be about three hours long.
A huge part of the Opening Ceremony is to reflect the host country's culture. For that reason alone, it's worth tuning into. South Korea alone presents a fascinating spectacle. South Korea joining with North Korea could make for an epic introduction to the 2018 Games.