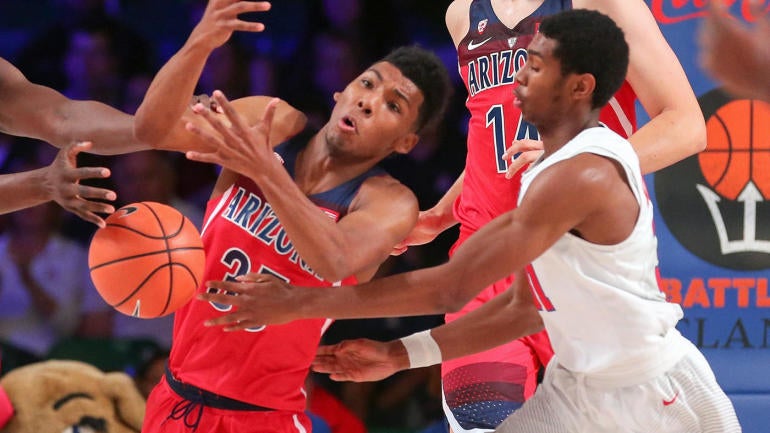 PARADISE ISLAND, BAHAMAS — Coming into this week's Battle 4 Atlantis tournament, Arizona had garnered 11 first-place votes in the latest AP poll and was ranked second in the nation. Sure, the Wildcats had yet to beat anyone of consequence, but the ceiling on this team seemed as high as potential No. 1 draft pick DeAndre Ayton's standing reach.
Ayton was playing like a Bahamian David Robinson, rebounding the hell out of the ball, protecting the paint and displaying an enviable skill set that's the reason many project him as one of the NBA's next unicorns. Junior off-guard Allonzo Trier was on fire, averaging 30 points during his first three games. Sure, the team's depth was suspect, and so was their point-guard play, but you could see why this season seemed like an ideal time for Arizona head coach Sean Miller to lose the title of best coach to not make a Final Four.
A similar storyline was developing at Purdue. Coming off three consecutive NCAA Tournament appearances, including a Sweet Sixteen berth last season, Matt Painter's 18th-ranked Boilermakers felt like a dark-horse Final Four team in what appears to be a down year for the Big Ten. Sure, they had lost national player of the year candidate Caleb Swanigan to the NBA, but Purdue returned virtually everyone else, displaying an enviable combination of depth and experience, not to mention always having an agile 7-footer on the floor in senior Isaac Haas and freshman Matt Haarms.
Four games in, and Purdue was, like a year ago, one of the nation's top 3-point shooting teams, hitting at a nearly 50 percent rate from beyond the arc.
Now, on the day after Thanksgiving, No. 2 Arizona and No. 18 Purdue will face off in the seventh-place game at a premier holiday tournament.
Black Friday this year will be a little more literal for both programs.
"We're not out of this yet," Miller said as the clock ticked past midnight. "We play Purdue tomorrow."
"If you wanna feel sorry for yourself," Painter said, "you're going to lose another one."
This is not how we expected this tournament to play out: The game that determines the seventh-place and last-place teams will be the only game in this tournament between two ranked opponents.
Villanova will play Northern Iowa for the title; in what is supposed to be an RPI-boosting event, Villanova could take home the trophy without beating a single NCAA Tournament-bound team.
It's silly, of course, to pay too much attention to November results in a sport where the only month that really matters is March. A few more shots dropping in these two close games and Arizona could easily be playing Purdue on Friday for the tournament trophy and for a good amount of buzz once they returned to the States.
But some trouble is certainly brewing in Tucson and West Lafayette. The teams' four losses came to opponents that are far from guarantees to make the NCAA Tournament. Notable from Arizona's side was a lack of effort, especially Wednesday in the loss to NC State — Miller called it perhaps the worst effort he had seen in his stint at Arizona — and then, on Thursday, a general sloppiness combined with a total lack of rebounding.
SMU attempted 23 more shots than Arizona did on Thursday. Twenty-three more shots!
When sophomore Rawle Alkins returns from injury, that will certainly help this team's toughness. But the fact remains this was the first time Arizona has lost back-to-back nonconference games since 2011.
"You put [Alkins] out there and it's probably a different story, but he's not out there right now," Miller said. "This is a different feeling, and it might be healthy for our team, because instead of everybody telling you how good you are — you're going to get to a Final Four, you're awesome — it's going to go opposite now. It could be something that drives our team."
Notable from Purdue's side was something similar. Sure, the shots didn't drop — a team that was shooting one of the best rates from 3, a nearly 50 percent clip, coming into the season was suddenly shooting 32 percent during these two games — but that happens. Of much more concern was, like Arizona, a lack of all-out effort, especially on the glass.
An upstart Tennessee team took 21 more shots than Purdue on Wednesday — 21 more shots! — because it dominated the glass, grabbing 20 offensive rebounds.
To the Boilermakers, it was like they came into these games expecting to be the better team, because, coming off last year's Sweet Sixteen appearance, most people expected that they were in fact the better team.
"We played entitled," senior PJ Thompson said. "We were worried about stuff that happened last year that don't mean nothing now. Our success last year, that don't mean nothing. That just puts a target on your back."
And so No. 2 Arizona and No. 18 Purdue will face off on Black Friday in one of the least predictable Top 25 matchups of the holiday tournament season. They'll be playing to save some face, to ensure they don't return from their Caribbean trip with zero wins to show for it.
"We're playing here for last place," Miller said with a shrug. "Clearly there's a lot on the line."
Which is not at all something we would have predicted a few days back.