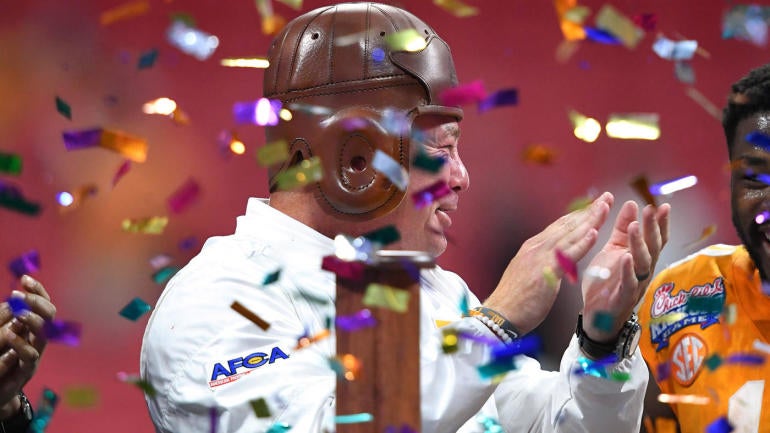 ATLANTA — Tennessee coach Butch Jones' past two trips to the state of Georgia have resulted in two of the more improbable wins in Volunteer history — last season's "Dobbs-nail Boot" Hail Mary over Georgia, and Monday night's 42-41 double overtime thriller against Georgia Tech.
All seemed lost inside Mercedes-Benz Stadium before Team Chaos found a way — with a little help from Georgia Tech, of course.
Tennessee got thoroughly outplayed for 55 minutes before the Yellow Jackets fumbled while threatening to score again while on the Tennessee 7-yard line up seven points. Georgia Tech needed only a field goal to make it a two-score game. Tennessee responded by putting together a fantastic drive to tie it only to see its defense collapse before blocking a line drive game-winning field goal attempt to force overtime. 
John Kelly punctuated the second overtime with his fourth touchdown and the final two of his 128 hard-earned yards. Georgia Tech coach Paul Johnson, who never lacks confidence, was then with a decision after quarterback TaQuan Marshall scored on the ensuing possession — go for the win with a two-point conversion or kick the extra point and opt for the tie.
Under normal circumstances against a worn out defense, that'd be a no-brainer. Against the Voodoo Vols, though, it proved costly.
Darrell Taylor nailed Marshall on the keeper, and Marshall tried to improvise with a desperation heave. But desperation heaves in this state work out only for the Orange and White. They work out only for Jones, a man who pulls more rabbits out of hats than a touring magician.
"It's all about the way you tell the narrative," Jones said when asked about his team attracting chaos. "Maybe your program has great character and grit. These kids believe in each other. The amount of players walking by saying, 'We got you coach, we got you.' It's how you tell the narrative. This is a program built on character, grit and belief. We found a way to win when we didn't play our best."
Tennessee should not have been in this position. 
Georgia Tech cut through the Tennessee defense like a hot knife through butter the entire night. Sure, defending the triple option is difficult, but the best times to face it are during bowl games and the first game of the season — when you have plenty of time to prepare. Evidently, Bob Shoop and his $ 1.2 million annual paycheck didn't do enough of that with this defense. 
The Vols held the ball for 18:33 in regulation as opposed to Tech's 41:27, got outgained 655-369, couldn't seem to get anything going in the passing game outside of a few screens and dropped numerous passes. Kelly disappeared from the game plan for prolonged periods of time.
It was a wretched offensive performance until the final possession in regulation — a 93-yard march to improbable glory. 
"Offensively, we did not play to our standard or expectation," Jones said. "We had way too many negative yardage plays, too many third-and-longs and too many dropped passes."
A loss in that fashion would have been demoralizing to a young team, embarrassing to a fan base that expects more than being simply competitive in a down division and a horrible way to kick off the season. 
The good news for Tennessee is that it found a way, and perhaps most importantly, found an identity. 
Kelly ran like a wild man, Dormady got into a rhythm late, and Marquez Callaway caught four passes for 115 yards and two touchdowns after star receiver Jauan Jennings left with an injury. 
"In the second half, obviously, Marquez Callaway, what can I say about that individual?" Jones said. "He sparked us."
Will they build off this victory? The bricks are there for Jones to lay. But he better lay them quickly. 
The angry mob was at his door for the first three-plus quarters as the Vols sputtered their way around the floor of Mercedes-Benz Stadium. 
Jones knows this victory doubled as an escape.
"We have to get a lot better in a hurry."
Well, that or play more games in the state of Georgia — where Team Chaos always has the upper hand.