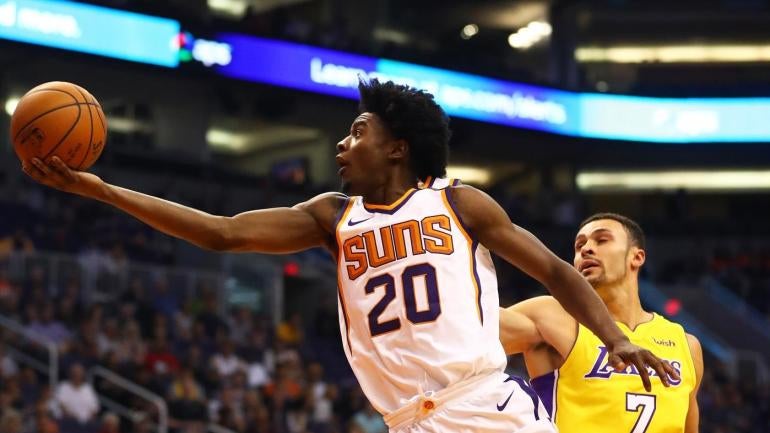 Phoenix rookie Josh Jackson got caught making a very strange gesture towards a heckling fan during the Suns' 130-88 road loss to the Los Angeles Clippers on Saturday. Many people assumed he was making a trigger-pulling motion almost like he was shooting a gun.
Jackson has cleared up the air however and clarified that he was not making a gun motion towards the fan. He was actually trying to flip them the bird, but he felt like he was being watched so he gave them a halfhearted version of it instead. He also doesn't regret it, because if fans are going to heckle then they're inviting a response.
"That's what most people thought I was going but I actually wasn't making a gun," Jackson said, adding he has seen the video. "I kind of wanted to put up the middle finger to him but I didn't do that because I felt like I was really being watched so I kind of halfway did it."

Jackson said he doesn't regret making the hand gesture. He said the fan had been heckling him all game.

"He called me a few names as I was coming out of the game so that's what really set me off," Jackson said. "But it had been going on from the same guy the entire game. Fans can come and sit so close and say whatever they want to say and us as players can't react in any type of way. It's something I'm still learning."
Jackson is young and honestly his quote is amazing. No, of course he wasn't making a trigger motion. It was actually a halfway motion to represent how he felt about the fan's heckling.
However, he'll quickly learn that while fans are jerks they're very well protected by the NBA. Fans can say what they want, for the most part, without repercussion. That in itself is an issue, but players can give back witty one-liners if they want as long as it doesn't involving swearing. DeMarcus Cousins for example was recently fined for swearing at a fan.
The NBA has not commented on if Jackson will receive punishment for the gesture.