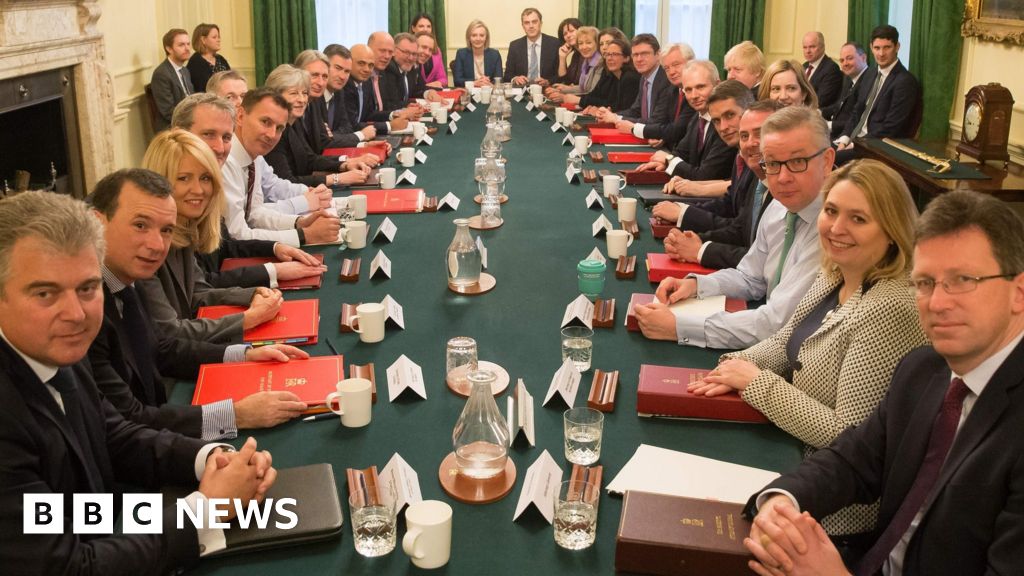 Theresa May's cabinet has met for the first time after a reshuffle that triggered a resignation and was called a "lacklustre PR exercise" by Labour.
Justine Greening quit after refusing to move departments, and Health Secretary Jeremy Hunt persuaded the PM to keep him in post with a beefed-up role.
The most high-profile cabinet ministers all kept their jobs.
Junior minister changes are continuing – including Jo Johnson being moved from his universities role to transport.
New Conservative Party chairman Brandon Lewis said the reshuffle would be like a "breath of fresh air" by the time it was finished.
But it was being called "embarrassing" and "shambolic" by some Tory MPs, the BBC's political editor Laura Kuenssberg said.
As more ministerial moves were announced on Tuesday:
Mr Johnson was replaced by Sam Gyimah as universities minister
Mark Garnier lost his job as trade minister – a source said his departure was not related to recent allegations of improper conduct
John Hayes (transport), Philip Dunne (health) and Robert Goodwill (education) also left their posts
Alok Sharma moved from housing to employment
Dominic Raab replaced Mr Sharma as housing minister
Rory Stewart replaced Mr Raab as justice minister
Mr Johnson had been in the firing line over the appointment of columnist Toby Young to the board of the government's universities regulator.
The brother of Boris Johnson, a former mayor of London, he will also be the minister for London in his new role.
Speaking on the BBC's Daily Politics, new Conservative deputy chairman James Cleverly said he was not worried about the hostile newspaper headlines generated by the reshuffle.
"Today and yesterday were about reshuffles and that always causes lots of froth and drama in the media," he said.
"Today's headlines are what they are – tomorrow and onwards we will be getting the really important stuff which is about what we are doing, what we are delivering in government."
In some of the key cabinet appointments on Monday:
Ms Greening was replaced as education secretary by Damian Hinds
Esther McVey was promoted to work and pensions secretary
Justice Secretary David Lidington was moved to the Cabinet Office, and will deputise for Mrs May at Prime Minister's Questions
David Gauke replaced Mr Lidington as justice secretary
Matt Hancock is culture secretary and Karen Bradley is the new Northern Ireland secretary
Two departments were renamed – housing was added to the title of the communities department while the title of Mr Hunt's health brief now includes social care.
Mr Lewis replaced Sir Patrick McLoughlin as Conservative Party chairman.
Speaking on BBC Radio 4's Today programme, he said "really good people move on" in any reshuffle. He would not get into "gossip" about how it had unfolded, but said it had heralded a "real influx of new talent".
"It's not finished yet," he said, predicting a "breath of fresh air coming in" with the other ministerial announcements that are expected during the day.
Alan Milburn, the former Labour minister who was until recently the government's social mobility tsar, said Ms Greening's departure was "a loss as far as social mobility is concerned", saying she had been "actually getting on and doing something".
Scottish Conservative leader Ruth Davidson also said she was sorry to see Ms Greening leave:
In her resignation statement on Monday evening, Ms Greening said: "Social mobility matters to me and our country more than a ministerial career."
---
Was May foiled in reshuffle aims?
Laura Kuenssberg, BBC political editor
Theresa May had mulled over her reshuffle for months.
On Monday she felt daring enough to do it, after ending the tumult of 2017 with the government in better shape than for quite some time, despite the embarrassing departures of some of her colleagues.
The task was not to make radical changes, the most senior jobs were never in question, but the plan was to get the right reformers into the right jobs in her view, and to plan for the future.
The question of the long term will still be dealt with on Tuesday, when junior ministers are expected to be appointed, with far greater numbers of women and ethnic minority MPs, part of the Tories' effort to look more like the country they govern.
---
Labour leader Jeremy Corbyn said: "The government's big plan for the new year is to dodge the real issues and reshuffle the pack in a pointless and lacklustre PR exercise.
"It's simply not good enough. You can't make up for nearly eight years of failure by changing the name of a department."