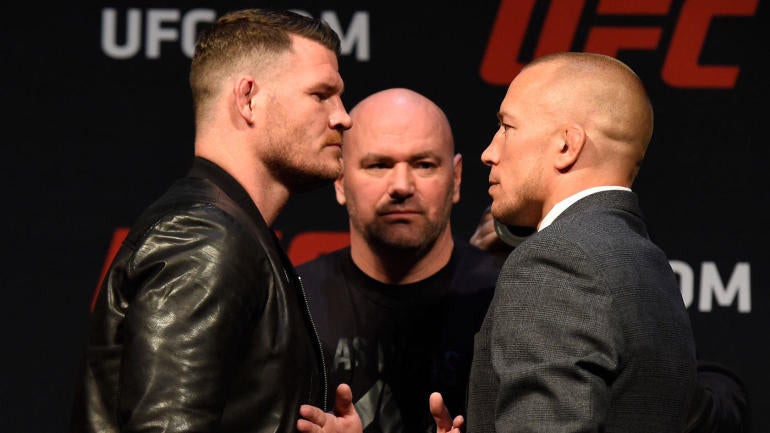 Somehow, it's time. No one could have imagined this day would come some four years ago when Georges St-Pierre walked out of the Octagon once again the UFC's welterweight champion for an ninth consecutive time. But now at 35, GSP will try to pull off a feat only known by three other UFC fighters: holding a championship belt in multiple weight classes. On paper, this is actually an Alabama vs. Notre Dame-type of matchup. UFC middleweight champion Michael Bisping and St-Pierre are first and second in UFC history for most wins ever.
But this fight is about much more than that for both. For Bisping, it's about leaving his legacy on the sport by vanquishing another one of the sport's legends. For St-Pierre, it's about reminding folks just how dominant he was and still is. Plus, we get to see two of the young-and-hungry fighters still on their ascent to greatness in Cody Garbrandt and Joanna Jedrzejczyk. It all goes down on Saturday night at 10 p.m. ET at Madison Sqaure Garden. Here's how the main card shakes out with the latest odds from Bovada.
| Favorite | Underdog | Weightclass |
| --- | --- | --- |
| Georges St-Pierre -115 | Michael Bisping (c) -115 | Middleweight title |
| Cody Garbrandt (c) -185 | T.J. Dillashaw +150 | Bantamweight title |
| Joanna Jedrzejczyk (c) -600 | Rose Namajunas +400 | Women's strawweight title |
| Stephen Thompson -185 | Jorge Masvidal +150 | Welterweight |
| Paulo Borrachinha -240 | Johny Hendricks +190 | Middleweight |
With a big card on tap, our experts took a crack at picking each of the main card fights. Here are your pick makers: Bill Reiter (national columnist), Brian Campbell (combat sports writer), Matthew Coca (producer), Michael Mormile (producer), and Brandon Wise (editor).
| Fight | Reiter | Campbell | Mormile | Coca | Wise |
| --- | --- | --- | --- | --- | --- |
| Bisping (c) vs. St-Pierre | GSP | GSP | Bisping | Bisping | GSP |
| Garbrandt (c) vs. Dillashaw | Garbrandt | Dillashaw | Garbrandt | Garbrandt | Garbrandt |
| Jedrzejczyk (c) vs. Namajunas | Jedrzejczyk | Jedrzejczyk | Jedrzejczyk | Jedrzejczyk | Namajunas |
| Thompson vs. Masvidal | Masvidal | Masvidal | Thompson | Thompson | Masvidal |
| Borrachinha vs. Hendricks | Borrachinha | Hendricks | Borrachinha | Hendricks | Borrachinha |
| Overall | 11-11-1 | 14-8-1 | 15-7-1 | 14-8-1 | 14-8-1 |
Mormile on why Bisping wins: Ring rust is real and coming out of retirement rarely ends well for anyone. I don't think St-Pierre has the power to finish Bisping in this fight with his last stoppage coming back in 2009 and that was a doctors stoppage. I think Bisping grinds out a win by decision at MSG.
Wise on why GSPwins: There's a reason that St-Pierre picked this specific time to return to the sport. Everything is set up perfectly for him to walk into this fight and come out victorious. Bisping does not have the power to score a knockout over St-Pierre and GSP will likely take this to the mat and look for a submission early on. Even looking at GSP's last seven fights will make you tired when you think of going the distance over 25 minutes in each, but for that reason, I think the Canadian is able to earn the middleweight crown.
Campbell on why Dillashaw wins: Avoiding Garbrandt's power — particularly in that right hand — will be no small task for Dillashaw. But the former champ remains incredibly hungry after feeling he had his title stolen via disputed split-decision defeat and has continued to evolve his dynamic striking style since leaving Team Alpha Male. If their wrestling abilities cancel each other out, this fight will be won and lost on the feet. By switching stances and mixing the angles of his strikes, Dillashaw has the footwork to out-slick the champion, especially if Garbrandt's back injury isn't fully healed. Expect this one to go the distance, forcing judges to choose which style they preferred.
Coca on why Garbrandt wins: Power and speed are Garbrandt's best friends. He has some of the best hands in all of the UFC. Dillashaw has a real funky fighting style that can mess with anyone's timing, but Garbrandt just needs to stay aggressive. This fight is personal to both guys with a whole lot at stake outside the octagon. Garbrandt stays unbeaten with a monster TKO.