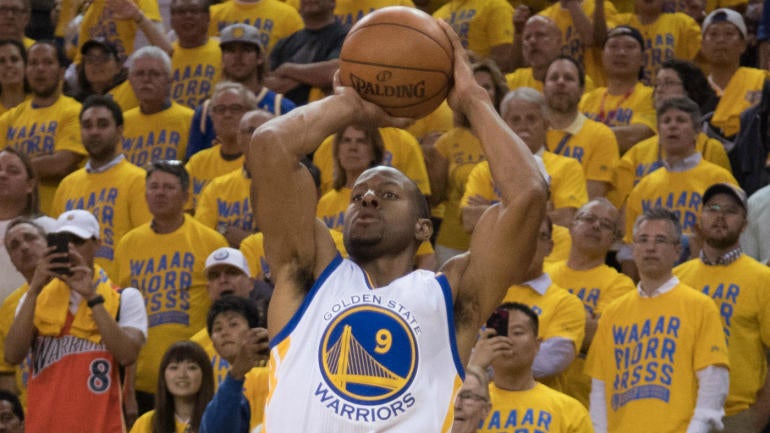 Kawhi Leonard's sprained ankle has understandably been the biggest story from Game 1 of the Western Conference finals between the San Antonino Spurs and Golden State Warriors, but there was another notable injury from Sunday's action.
Andre Iguodala, the 2015 NBA Finals MVP, played only 10 minutes in Game 1, which greatly confused most viewers. As it turned out, Iguodala was bothered by soreness in his knee, which forced Mike Brown to keep him on the bench for much of the game. To get a better understanding of what is wrong, the forward will undergo an MRI, and his status for Game 2 is still in doubt. Via The Mercury News:
Andre Iguodala said he will get an MRI on Monday to determine the severity of the left knee discomfort that kept him out the entire second half. He could very well miss Game 2 on Tuesday.

The MRI will determine if he needs to miss any time. But even if it comes back clean, there is a strong chance Iguodala will be held out for rest and treatment just as a precaution.

Iguodala, known for being meticulously in tune with his body, has had past knee injuries and said he recognizes this feeling. He said it might be more than just normal soreness. He too is waiting for the MRI results to rule out a tear or a bad sprain.
Though the Warriors are absurdly talented, this is obviously a cause for concern. Iguodala is their most important reserve, and a key part of their "death lineup" along with Steph Curry, Klay Thompson, Draymond Green, and Kevin Durant. Plus, he's a stout defender, and very capable when matched up with some of the best players in the league, such as Kawhi Leonard and LeBron James.