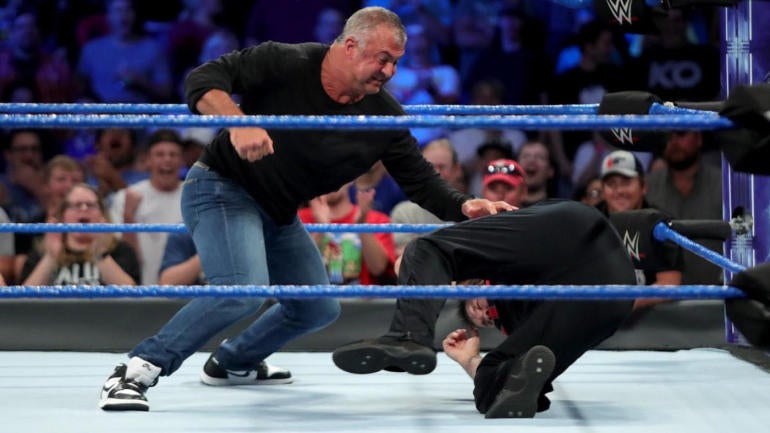 We have come quite a ways since SummerSlam, but WWE is now gearing up for its next SmackDown Live pay-per-view as Hell in a Cell is set to go down live on Sunday, Oct. 8 from Detriot.
The event will begin with a kickoff show at 7 p.m. ET before the PPV itself starts at 8 p.m. Expect to see this card filled out a bit more by WWE over the next few weeks, though what is already booked for the show appears to be quite a nice start.
2017 WWE Hell in a Cell matches
Kevin Owens vs. Shane McMahon (Hell in a Cell): This has been a slow-building rivalry, but it hit a fever pitch when Owens laid out McMahon's father, chairman Vince McMahon, on SmackDown. Business should pick up further in the coming weeks.
WWE Championship — Jinder Mahal (c) vs. Shinsuke Nakamura: Mahal has now held the WWE title longer than Roman Reigns, Ric Flair and Chris Jericho, among others. Whether that is ridiculous to you or not is no matter, he's the champ going into Hell in a Cell and will not defend the title inside the structure. Is this when we finally get a title change?
Tag Team Championship — The New Day (c) vs. The Usos: The rematch clause was used again, though no stipulation has been announced for the match. I'm betting they meet in Hell in a Cell as it would be a great way to finally conclude a tremendous rivalry.
Women's Championship — Natalya (c) vs. Charlotte Flair: A(nother) Fatal 4-Way determined the No. 1 contender, and it was Flair coming out on top. Carmella was off TV recently, so perhaps they are building up a surprise cash-in.
---
The following matches are speculation at this time and not official.
United States Championship — AJ Styles (c) vs. Baron Corbin: Styles and Corbin have been verbally jousting and irking one another for weeks, and it is quite obvious that this will go down.
Dolph Ziggler vs. Bobby Roode: Ziggler has been working on his new disrespect gimmick, while Roode has missed consecutive weeks of television. It would make sense for these two to go at it, especially as Ziggler keeps claiming he's the best wrestler of all-time, something "Glorious" Roode would likely want to disprove.